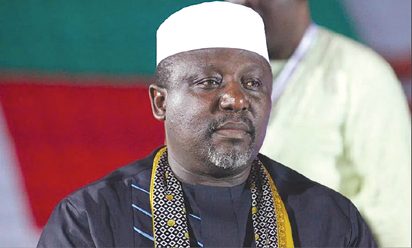 Imo State Governor, Rochas Okorocha, yesterday, described President Mohammadu Buhari as a man, whom God sent to prevent Nigeria from collapsing, boasting that Buhari will win again in the South-East geopolitical zone in 2019 presidential election, as major and smaller political parties will adopt him as their Presidential candidate.
He stated this in a statement to newsmen in Owerri, through his Chief Press Secretary, Mr Sam Onwuemeodo, while congratulating Buhari on his 75th birthday.
"At the time Buhari became president, the nation was at the verge of being grounded unknown to some people," he said.
On the issue of 2019 presidential election, Okorocha said: "In 2019, the votes the President will get for his second tenure will be two times more than the votes he got in 2015 because most Nigerians have come to appreciate the necessity of his coming and what he is doing with the office.
"In 2019 too, most of the political parties will not sponsor presidential candidates including some of the big parties to enable them support the Buhari Presidency, and to enable the President finish the good works he has begun and also lay a very solid foundation for those coming after him."
Also yesterday, Okorocha asked the people of the state not to dwell much on the problems facing them, but should focus on God.